FEELING THE CHANGE
~REWIND, REVIEW, REPLAY~
I was too exhausted to finish my weekly blog last night, so I'm playing catch-up during Tanner's nap today. Brandon got moved from swing-shift to day-shift and it's messing with the original routine that we were all used to. Now we ALL get up at 5:30am, when Brandon gets up, because Tanner wakes up with every little noise. Before the shift change we were all sleeping until 7:00am. Instead of getting to hang out with Brandon all day, Tanner and I are now trying to keep busy so that the day doesn't drag on until he gets home. So far we have been successful at not letting boredom beat us down. Our days have been looking a little bit like this;
5:30am -Rise and Shine ~ play in Momma and Dada's bed until breakfast
6:00am-Breakfast ~ Oatmeal or Scrambled Eggs
6:30am -Say goodbye to Dada ~ Play with toys and watch cartoons
8:00am -Everyone locked in the bathroom while Momma showers ~ Water going everywhere, toilette lid slams continuously along with toilette flushing, Momma's makeup and hair pretties all end up in the shower too.
9:00am -Out the door in search of some adventure ~ Walking, Playdates, Shopping, Errands, Have a snack somewhere in there
11:00am -Lunch ~ I'm raising a little human garbage disposal, he eats everything I put in front of him
11:30am -Nap/Catch up on chores, do bible study, treadmill time
1:30-2:00pm -Wake up from nap ~ Have a snack, Play indoors and outdoors until Dada comes home
4:30pm -Dada gets home ~ Squeals emit from my son when his Dada walks through the door
5:00pm -Eat Dinner~Play and bathe until bedtime
7:00pm -Bedtime for the babe, relaxing and cuddle time for Momma and Dada
9:00pm-10:00pm -Bedtime for Momma and Dada ~ both exhausted, we work hard
It's taking Brandon and I a lot longer to get used to the change than Tanner. I love how my son adapts so quickly. We love having Dada home during the day, but we are doing great without him as well.
Onto the week...
~We have had some pretty awesome weather lately. It feels like spring. It's almost better than spring because it's still cold enough that our snow isn't melting into giant muddy messes. During the day it's been reaching between the mid-teens, all the way up into the 30's. At night it's still dropping below zero. You won't hear any complaints out of me!
We've been getting out and breathing the fresh, crisp air. Tanner loves watching the dogs. Nothing gets a bigger laugh and smile out of him than seeing the dogs zoom past us.
~On base, last Friday, there were some winter games going on. Tanner and I went to go play since Brandon had to be there. It's such a hassle getting Tanner suited up for the temps, he fights every layer we put on him. This day it was really blowing outside so he needed those extra layers.
~Big ol' sled hill. They had a great time until the bottom of the hill. Brandon had to stick his feet out to stop them and it kicked a bunch of snow into their faces.
~There were some sprint dog races going on in North Pole over the weekend. Another great excuse to get out and enjoy the sun...
I love a good fur hat. I'm going to have a spotted seal and sheared beaver one before I leave Alaska.
Ready to run
~These past few days are really the first time that Tanner's been able to walk around in the snow. He hasn't had to be rushed to and from a vehicle. He can just get out and poke around in the snow, rolling and eating it at his leisure.
~Tanner has discovered the PB&J, and loves it. His grandma Florence made the raspberry jam last summer. Luckily Tanner only gets a really thin layer of it so it'll last us until she decides to send us another jar.
~I bought a step to workout on in front of the TV. Tanner thinks I bought him a new toy... I have to workout on it when he isn't around because he isn't very good about sharing.
~I love chopping carrots. There is something about the sound they make when I slice through them. Their bright color. They truly are beautiful. I threw these into a pasta sauce which was used for a delicious lasagna.
~Another fort was built. Our comforter needed a little extra drying after being washed at the laundromat. Tanner thought it was great. I actually got to sit inside this one for a bit. He likes to play peek-a-boo with the walls, or simply just sprawling out under his temporary shelter.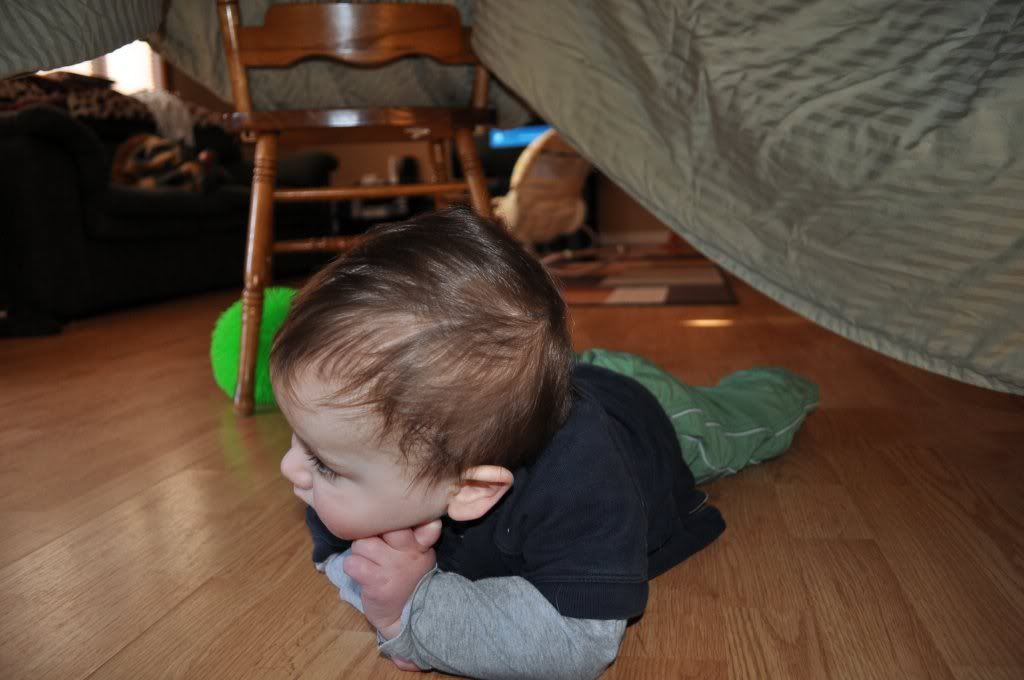 He's watching the door, waiting for his Dada to come play with him.
~Duckie is enjoying some sunbathing in the comfort of the dog's toy box. I love to curl up on the floor in a sun spot too. It's not very relaxing these days with my little Buckaroo running around, disrupting the peace.
Here's to praying for more sun in my face!