COMMITMENT
~REWIND, REVIEW, REPLAY~
I started this weeks blog with the intent of the subject matter being goals, and in a way it still is. I believe it is important to set goals and have hopes and dreams to strive for. I'm having problems setting and sticking to goals though. It's causing me to really take a look inward. I started January, like most people, setting a few goals or
resolutions
. I even have a group of girls that I email once a day to report how I'm doing with my goals. I have taken my few goals and altered them so much that they are no longer even my original goals that I started January with. It has me wondering if I have commitment issues. Not only can I not commit to a few self-improvement goals, there are many other aspects of my life being touched by this. I was a part of a local momma's group and less than a year later I quit. I agree to play dates only to cancel them last minute. I start craft projects and quit, usually when I'm nearing the end. Brandon and I found a great church here in North Pole and attended EVERY Sunday, then a year later stopped completely and haven't been back in two years now. I can't stick with a workout regimen or stick with healthy eating habits.
I don't have a problem being faithfully committed to my husband or to being a devoted mother to my son. If I failed at these two commitments I'd be so lost in darkness I'd have a hard time finding my way out. I have managed to publish this blog three weeks in a row now. I have NOT chopped my hair off, though I've been tempted on numerous occasions (I'm growing it out). Maybe it's not commitment issues that I have. Maybe it's the fact that this is the first time in my life that I have not had a teacher, boss or any other authoritative figure telling me what to do. Maybe this is me just trying to explore my new roles in life.
I'll be praying on the issue. In the mean time, I'm going to commit myself to the goals that I report to my friends about daily;
One hour of bible study five days a week
Daily food journal
Incorporate five sun salutations into my daily routine
Instead of calling them goals I'm going to call them aspirations. Not as much pressure that way. ;)
On to the week...
~For the last three Friday evenings Tanner and I have been driving out to Eielson Air Force Base to visit Brandon at work since the flight line is usually pretty slow on this night. He is currently working swing shift which is from 4:00pm until usually sometime after 12:00am. We have dinner and watch Flying Wild Alaska and Gold Rush: Alaska on the Discovery Channel with him and his co-workers.
~ Our nephew Isaiah spent the weekend with us. We took him to his soccer game, his soccer practice and Brandon helped him with a school project. Isaiah really looks up to his uncle. They share a passion for airplanes. Isaiah even says he's going to join the Air Force like his uncle when he grows up.
~We have been going to Pete and Lisa's home to watch the TV show Big Love on HBO. Pete usually makes a yummy meal and I make a dessert. This weekend Pete made fondue and I made a tort! Delicious! Fun!
~Tanner has a portable high chair that attaches to the table. The contraption fell from the table with him in it. YIKES! We bought a normal high chair that he eats his meals at now. He has snacks in his portable highchair at the kitchen counter now.
~ I've been making smoothies in the afternoons for snacks. We have tried some really great combinations. One of Tanner's favorites was banana, raspberry, spinach!
~ We've had some really fun play dates the last 1.5 weeks. I'm really working on getting Tanner around other kids. It's hard this time of year for me to want to get out and socialize, but for Tanner's sake and my sanity it's necessary!
Trying to share with friend Brody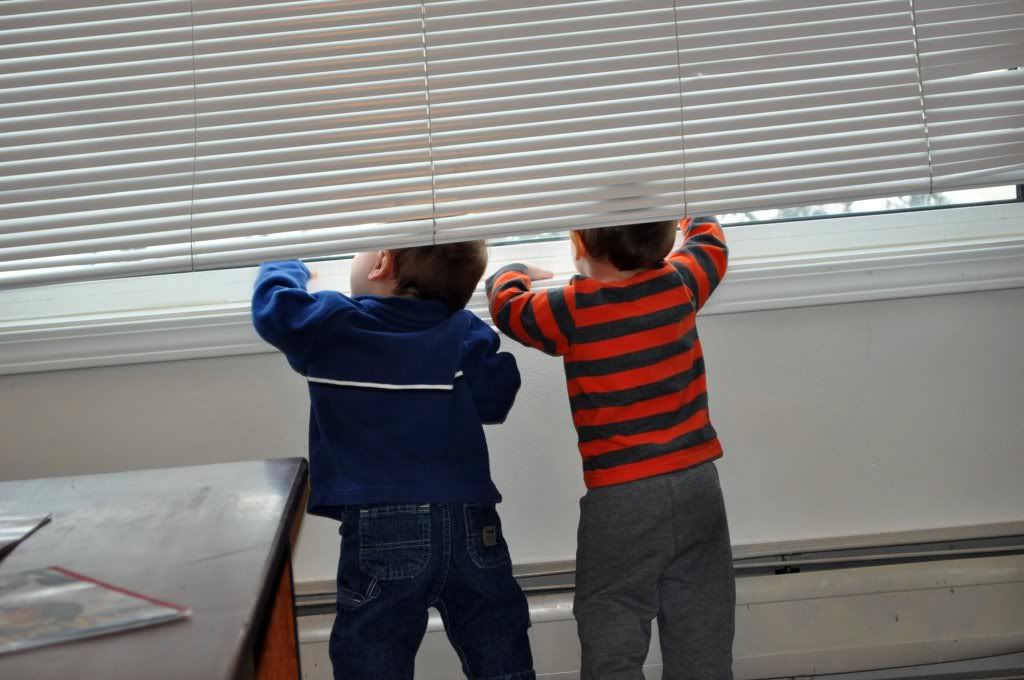 Looking out the window with friend Dan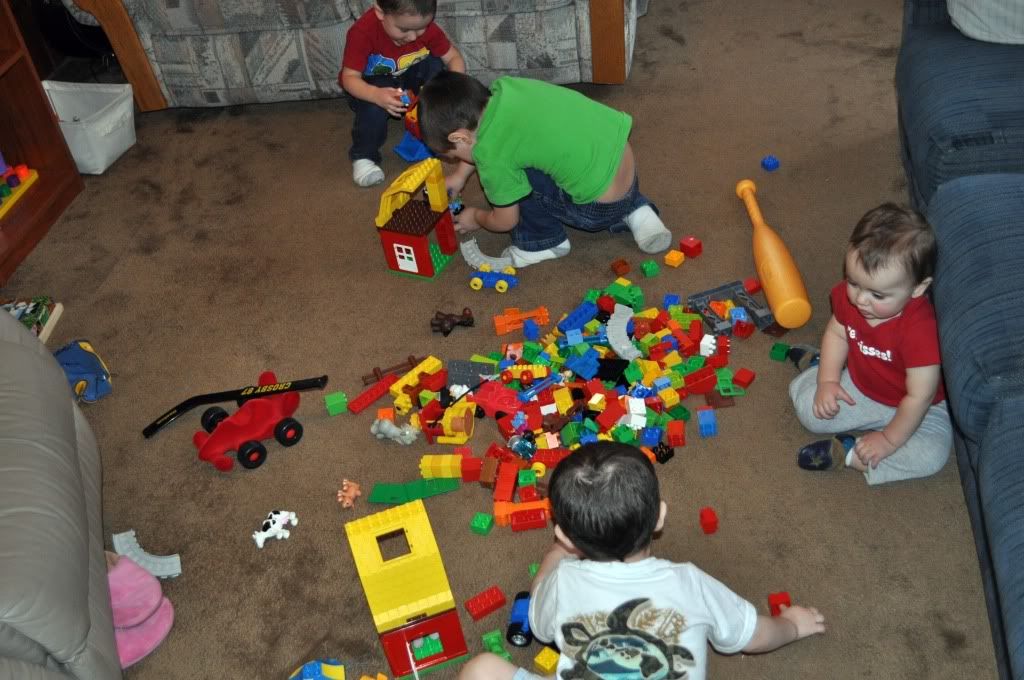 Playing with friends Adam, Sammy and Simon
~I have been trying to do laundry when Tanner is busy playing or napping otherwise it is virtually impossible to get anything done!
Hopefully next week I'll know how to post pictures side by side. If anyone has tips on this please clue me in.